Enneagram Emersion
Enneagram Program to Reveal the Hidden You
Held in a live, online environment
with Deborah Ooten, PhD
An Emersion occurs when an eclipsed body reappears, moving from the shadow of the eclipse back into the light.  Enneagram Emersion assists participants in identifying roadblocks present in their lives and will help those involved realize their full potential in all areas - work, play and self care.  The program consists of Enneagram Emersion I and Enneagram Emersion II, with online sessions offered monthly or weekly over approximately 8 months.
Enneagram Emersion I
The Enneagram of Personality is used to deepen awareness and understanding of the self and the roadblocks of personality fixations. Students are guided in developing their own self-observation and mediation practices, and will develop deep insight into the core motivations of all nine Enneagram Types. The intricacies of the Enneagram of Personality are uncovered, including Wings, Dynamic Movements, Instincts, and Tritypes. All three centers of intelligence (mind, heart, and body) are stimulated through teachings to develop more objective awareness, compassion, and embodied presence. The Enneagram of Essence is explored through the transformation of the Passions and Fixations into the Virtues and Holy Ideas. 
This learning is highly experiential with many opportunities for application.
Enneagram Emersion Il
The second part of the program expands the study of the Enneagram of Personality to relationships with the world and evolving levels of consciousness.  Students will learn the emerging bio-psycho-social states of adult human development through the system of Spiral Dynamics® and applications of this system to individuals, organizations and cultures. Participants will apply their learning of the Enneagram and Spiral Dynamics® to individual and group dynamics through Personal Change and Social Change Projects. Participants learn to conduct Enneagram Typing Certifications, to assist clients in understanding their own Enneagram type
Part II prepares participants to become Certified Enneagram Teachers and Trainers and to use the Enneagram in more depth personally and professionally. The culmination of the Enneagram Emersion program ends with the EE Certification Process of conducting a supervised typing interview with a new client. This Certification Process is an in-depth application, bringing together all the skills of the program: the Enneagram, Spiral Dynamics®, self-observation, objective awareness, compassion, and grounded presence. Certified Enneagram Teacher and Trainer Certificates are issued to those passing certification.
Part II may be taken immediately after Part I, or at a later time.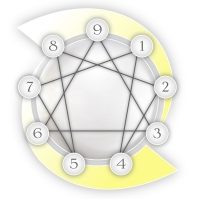 Learn More about the Nine Enneagram Types
The Enneagram shows nine ways of seeing and experiencing the world as well as the relationships between personality and psychological development.  It explains underlying motivations, as well as strengths and weaknesses in navigating life and relating to others.