.
Coaching with the Enneagram and Spiral Dynamics / Levels of Consciousness
2-Seminar Certification Program
Must be a graduate of the School of Conscious Living and a certified teacher trainer. Must be teacher trainer certified in the enneagram with at least 2 years of experience.
Beginning March 10th, 2023, 10am-12pm EST (weekly on Fridays).

Seminar 1 March 10, 17, 24, 31 and April 7th
Seminar 2 April 14, 21, 28, May 5, and 12
Cost: $450 per session, 2 total sessions, total cost for the 10 week program is $900.
Join Deborah Ooten and continue your journey with the School of Conscious Living. This class is specific to individuals who have already graduated from the Enneagram Emersion program and have been certified by the SCL to teach and train using the Enneagram. This is an advanced class for Enneagram Coaching certification in an engaging and supportive online environment.
Coaching is a process of empowerment and increasing personal influence over one's own life and experiences.  In this class, you will learn to guide the client to understand expanded awareness, adjust focus, improve self-confidence, enhance well-being and partner with you, the coach.  Defining coach and client relationship integrating the Enneagram and Spiral Dynamics.
Coaching with the Enneagram and Spiral Dynamics is a 2-seminar program that fully integrates the enneagram with the best coaching theory and practice using coaching methodology and techniques.   Additionally, Deborah will present best practices to setting up your own coaching practice.
Required readings:
Fierce Conversations by Susan Craig Scott, MD
Zahir by Paulo Coelho
The Four Agreements by Don Miguel Ruiz
Flawless Consulting by Peter Block
To register, contact Deborah Ooten using the registration form or call
513.621.3600.
Scholarship and Payment Plans are available. Please contact us for details.
Program Outline
Coaching with the Enneagram and Levels of Consciousness
Session 1
Defining Coaching vs Therapy
Coach and client relationship
Types of coaching. Life, personal, spiritual, executive and relationship
Setting up. Intake forms, location, screening clients, legalities
Coaching Model. Contracting, collecting, communication, challenging, changing
Building challenge/change technique for each type
Coaching using the Enneagram and spiral dynamics
Coaching with the Enneagram and Levels of Consciousness
Session 2
Setting up "stay fresh" monthly peer supervision
Using the Map of Everything, Law of 3, Law of 7
Begin to use the practices
In depth exercises. Peer coaching using triads Coach, client, feedback.
Assessments
Final certification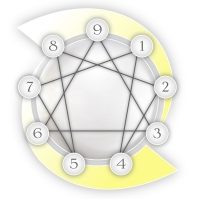 Learn More about the Nine Enneagram Types
The Enneagram shows nine ways of seeing and experiencing the world as well as the relationships between personality and psychological development.  It explains underlying motivations, as well as strengths and weaknesses in navigating life and relating to others.