Enneagram Type 1: Judge
Identifiers
Critical awareness, self-improving
Core Belief
I am not accepted for who I am and must be good to avoid punishment

Body Triad
Concerned with correctness and perfection, primarily of self.
Tend to present as tense and rigid in posture and speech.
Underlying sense of anger
Over analyzing and over criticizing
Tends to be good, responsible, and conscientious to assuage the internal critic.
High level of integrity, industriousness, and idealism.
Always looking for ways to improve.
Tendency to be highly principled, moralistic, and ethical.
Key Characteristics
Hard-working self-reliant, critical of self and others, responsible, integrative
Ennegarm Type 2: Provider
Identifiers
Give to get, relational
Core Belief
I must meet the needs of others to be cared about.
Heart Center
Focus of attention is on relationship with others
Believes knows about what the other in a relationship needs
The power behind the throne
Engaging, seductive and charming    
Skillful in the maneuvering or manipulation of others (often unconsciously)
Innate sense of knowing the right thing to say or do in difficult situations
Verbally and physically expressive
Avoids being rejected or unappreciated
May have a sense of being a gift to others
Key Characteristics
Helpful, presents well, supportive, seductive, and manipulative
Enneagram Type 3: Doer
Identifiers
Performing, achieving, success
Core Belief
I am rewarded for "doing" not "being".
Heart Center
Confident, competent, efficient, fast paced, multi tasking
Driven to, for and by success
Can be chameleon-like in order to get the "job done".
Seeks outside approval
Forward moving in leadership style and energy
Success is the only option.
Can be neglectful of relationships
Competitive and self-promoting
Positive mirroring
Focus on work, success, competing and achieving
Emotions to recede into the background 
Key Characteristics
Practical, competent, efficient, self-assured, poised, charming, self absorbed
Enneagram Type 4: Idealist
Identifiers
Sweet melancholy, unique expression of self and emotions
Core Belief
I fear being abandoned or being seen as ordinary.
Heart Center
Presents as passionate and authentic.
Tendency to be in search of the object or ideal that is missing or lost
Sense of esthetics, deep meaning, intensity, emotional expressiveness.
Self-oriented
Feels abandoned, rejected, misunderstood and insignificant
Creative, artistic, and unique
Sensitivity, intuition and a deeper knowing
Nonconformist
Key Characteristics
Unique, emotionally intense, creative, cutting edge thinking
Enneagram Type 5: Sage
Identifiers
Gatherer of information, conserver of energy
Core Belief
Too much is demanded from me with little given in return.
Head Center
Paucity of emotions
Focused on wisdom and omniscience.
Thirst for knowledge
Fears around energy depletion
Tendency to hold onto thoughts, feelings, resources, energy and material possessions
Feelings are to be processed alone and in private
Compartmentalizes thoughts, feelings, and needs
Detached observational presence
Key Characteristics
Omniscience, being knowledgeable, energy conserving, self-contained, detached, appearing unemotional
Enneagram Type 6: Questioner
Identifiers
Doubting, dutiful, and problem solving
Core Belief
The world is a dangerous place.
Head Center
Sharp logical analytical mind that tends to question and doubt self and others.
Two basic stances; one phobic and the other counterphobic
Trust, decision making, internal consistency and clarity are often difficult
Loyalty to the family, the group or the underdog
Key Characteristics
Responsible, persevering, intuitive, worst case scenario thinking and attention to what can go wrong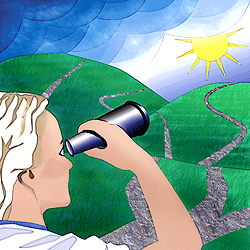 Enneagram Type 7: Adventurer
Identifiers
Optimistic, future planning
Core Belief
Life is limiting causing frustration, constriction and pain.
Head Center
Charming
Mental exuberance and zest for life
Optimistic
Fear avoidant
Positive reframing and future planning
Understand interconnection between ideas
Abhors constrictions and limits
Difficulty with constancy and commitment
Creates a world of playfulness, imagination, possibilities and limitlessness
Great at inception but difficulty with follow through
Key Characteristics
Enthusiastic, playful, inventive, full of life, difficulty limiting options
Enneagram Type 8: Defender
Identifiers
Energetically large, truth seeking
Core Belief
The world is a dangerous place, unjust and power imbalanced
Body Center
Large energetic presence
Controlling and dominating so that are not controlled
Moment oriented, taking action in the now.
Focuses on injustice, deceptions, manipulations and untruths
Direct, concise, clear, strong, just
Often defenders of those weaker or less capable
Energize and mobilize themselves and others toward the completion of any task or goal.
Appears self-confidence and strong to hide innocence and vulnerability
Excessive
Key Characteristics
Strong, decisive, sometimes seen as a bully, energetically driven and not afraid of conflict
Enneagram Type 9: Moderator
Identifiers
Mediating, harmonizing
Core Belief
I will not be appreciated for myself so I blend in to be safe, comfortable and connected
Body Center
Affable, pleasant and engaging style
Able to see all points of view
Difficulty setting priorities self
Merging with or taking on other people's agendas
Avoids confrontation, conflict and anger
Passive aggressive expression of anger
Maintains and mediates the peace and harmony for a group
Forgets own agenda (self forgetting).
Feels unseen and unheard
Key Characteristics
Adaptive, supportive, self-forgetting, receptive and accepting