.
Holy Ideas - the Antidote to the Fixations
With: Ron Esposito, MA
Date(s): Ferbuary 7, 9-11pm EST
Location: Online via Zoom
Register: Meetup
Intentional Living Circles are offered free (this offering is via Zoom). Inspired donations (not required) support ongoing events. Thank you for sharing at www.connectingyouwithyourself.com/contact
An accurate RSVP is requested and respectful. Thank you for keeping yours. Log on a few minutes prior so we can start promptly.
Topic: "Being and Everythingness" - Ron will guide us in better understanding the 9 Holy Ideas and how they offer the antidote to the 9 mental fixations of the types.
Presenter: Ron Esposito, M.A. is a certified Life Coach and IEA-accredited Enneagram Teacher. Ron is on the School of Conscious Living faculty at the Conscious Living Center in Cincinnati, Ohio. He has presented numerous times on Enneagram spirituality at IEA conferences in the United States, Canada, and Europe. Ron has been published in the Enneagram Journal and Nine Points and, along with Deborah Ooten, released the CD, "Lifting The Veil: Enneagram Meditations," featuring Tibetan and crystal singing bowls. A lifelong student of spirituality and mysticism, he presents with passion and an open heart.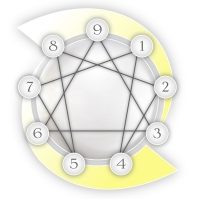 Learn More about the Nine Enneagram Types
The Enneagram shows nine ways of seeing and experiencing the world as well as the relationships between personality and psychological development.  It explains underlying motivations, as well as strengths and weaknesses in navigating life and relating to others.