Dr. Deborah Ooten LIVE in Egypt
Date(s): September 30 - October 8
Teacher(s): Dr. Deborah Ooten
Deborah Ooten will be finally in Egypt delivering 2 fine workshops followed by a live panel day!
Here are the details:
Grounding in 3 centers; experiencing your "Golden Shadow"
Date: 30th of September & 1st & 2nd of October from 10am-5pm
Avoiding the experience of our golden shadow may be the main block in our evolving journey and the main reason of repeating same patterns in our lives.
The spiritual bypass is something we employ to allow things that we don't love/ enjoy to happen to us... we try to take the "high road" instead of grounding... sometimes totally forgetting ourselves, our realities and the main aim of our journeys back to essence.
The Golden Shadow is our submerged greatness and it hides undiscovered strengths. Our strengths wait for us to heal our emotional wounds. Our unique gifts live behind the gate of our emotional pain.
Its time to get back to our essence of MIND, HEART and GUT centers by grounding in our centers and experiencing our golden shadow.
Sex, Power and Money in Relationships:
Date: 6th & 7th of October from 10am-5pm
Having successful & fulfilling relationships goes hand in hand with our degree of flexibility and flowingness with a lot of variables changing and shifting all the time. However, "Sex, Power & Money" triad is counted to be the main playmaker variable of defining and affecting our relationship's nature and sustainability levels in each moment.
In this workshop we will explore our main values and beliefs relating to this powerful triad "Sex, Power & Money" and see how it affects us and our relationships in different ways and how each type tackle them from their own nature.
Panel Day:
Date: 8th of October from 10am-5pm
Enneagram Panels help us gain valuable insight into the inner world of people who relate to each type. Let's learn the type's structure from its expert; from the type itself.
Join us in the Panel day on the 8th of October, where we'll be exploring each type from inside.
The panel will be moderated by our lovely expert Deborah Ooten who will be diving inside our representative's inner worlds with her lovely compassionate ways and highlighting real answers derived by their inner observer and type's internal structure.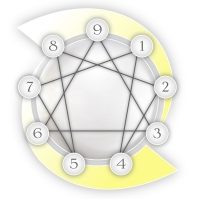 Learn More about the Nine Enneagram Types
The Enneagram shows nine ways of seeing and experiencing the world as well as the relationships between personality and psychological development.  It explains underlying motivations, as well as strengths and weaknesses in navigating life and relating to others.